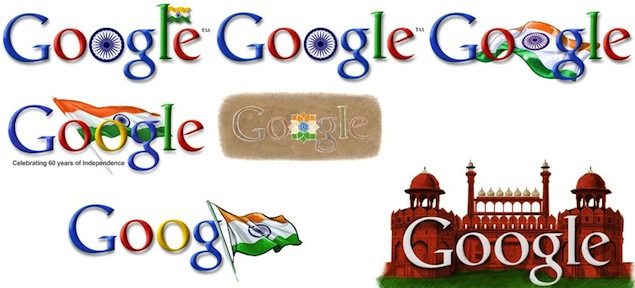 Independence Day India is the subject of the latest Google doodle in India. It's the eighth India India Independence day Google doodle over the years.

India Independence Day, of course, is celebrated on August 15 every year to mark independence of India from British rule. India was born as a sovereign nation on 15 August 1947, at the stroke of midnight, after spending nearly 2 centuries under the rule of the Britishers.

The first Independence Day India was in 2003, with Ashoka Chakra featuring as the second O in Google logo, while the L acts as a flag pole of the Indian flag. In 2004, Google decided to give Independence Day India a skip, with no Google day on 15th August 2004.

The 2005 Independence Day India Google doodle was similar to the 2003 Google doodle, except there was no flag on the L - clearly Google chose to go very minimalistic, and, some might say, without much thought. Ashoka Chakra continued to be featured in the Google doodle as the second O on Independence Day India 2006. This time, though, the Ashoka Chakra was featured as part of an Indian flag that was proudly unfurled in the background.

On 15 August 2007, Google doodle simply had the Indian flag flying in background of the Google logo, with no real integration between the Google logo and the Indian flag. Just below the logo was the text "Celebrating 60 years of Independence".

The 2008 Independence Day India Google doodle also featured the Indian flag, this time in the foreground, ahead of the letter LE in the Google logo. 2009, again, Google decided to give Independence Day India a skip as far as a Google doodle is concerned.

For Independence Day India 2010 Google doodle, the second O in the Google logo was depicted in the form of an Indian flag. It was also the only animated Independence Day India Google doodle till date.

Last year, the Independence Day India Google doodle simply depicted the iconic Red Fort at New Delhi as the backdrop of a Google logo in white. This year, of course, the Google doodle depicts a peacock, India's national bird.