Unique spectacular nature spots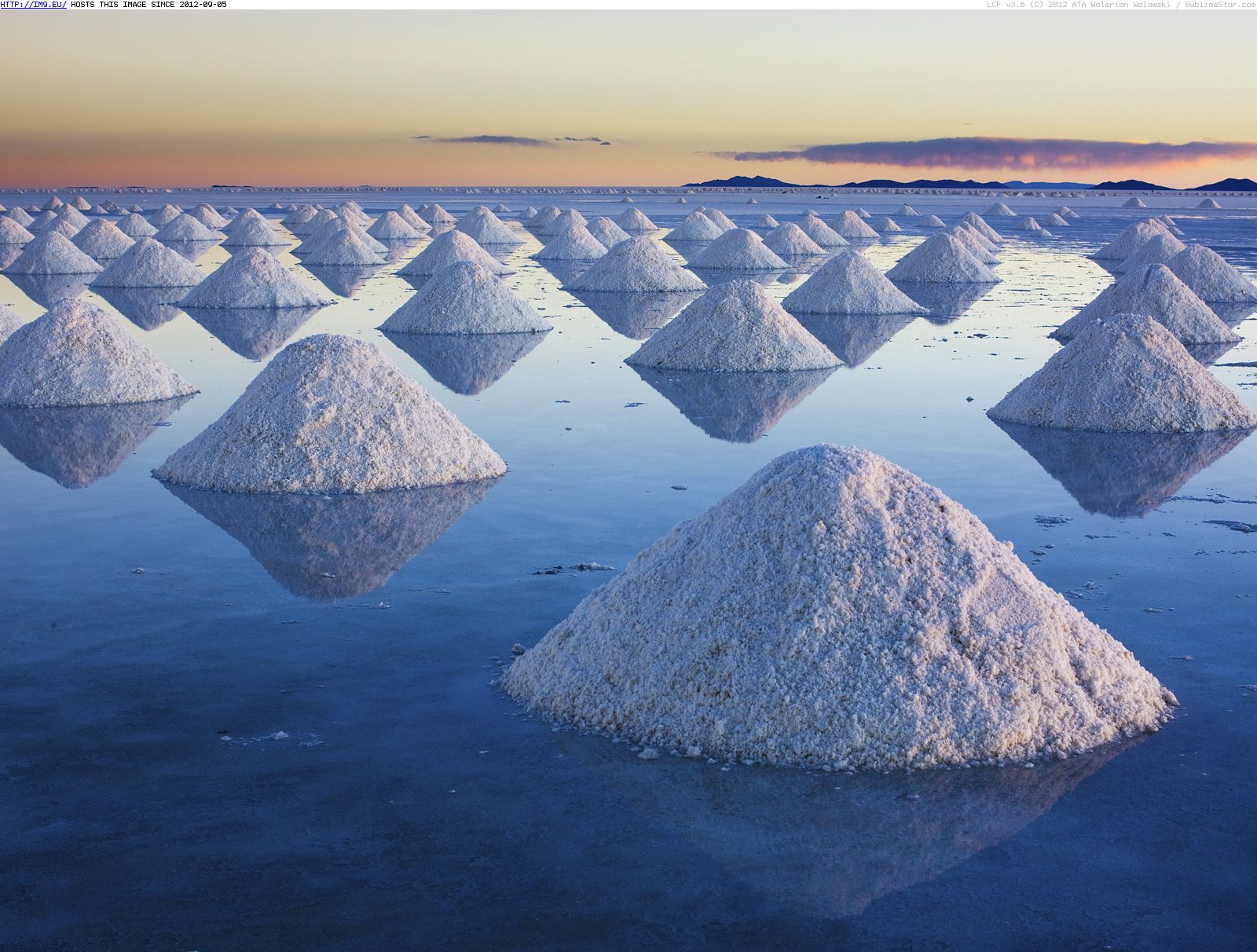 The Gran Salar de Uyuni in southern Bolivia takes in more than 10 square kilometers of salt. It feels more like a desert than a lake.
The flat, white landscape causes optical illusions and reflects colors. There's even a hotel made almost entirely of salt and an island where giant cacti grow in the middle of the salt lake.
Gran Salar de Uyuni is 533 kilometers south of La Paz and 200 kilometers southwest of Potosì.
Jiuzhaigou National Park, Sichuan Province, China

The three valleys that form this biosphere reserve contain a network of connected lakes, waterfalls and rivers -- the most spectacular of which are the Pearl Waterfalls. Spot the ancient tree trunks under the clear waters of Five Flower Lake. Wooden paths and shuttle buses help visitors get around.
In the north of Sichuan, the nearest town to Jiuzhaigou National Park is Songpan.
Lake Nakuru National Park, Kenya


A streak of blue (and pink) in Kenya's Great Rift Valley, Lake Nakuru is home to thousands of pink flamingoes that flock here to feed on the lake's algae. A UNESCO Heritage Site, Lake Nakuru National Park is also home to hippos, white and black rhino, giraffe and buffalo.Fee: US$75 per non-resident adult in high season, US$60 in low season. Fees for Kenyan residents and citizens are about US$5-10. Take a matatu 156 kilometers northwest of Nairobi, or a plane to the Naishi airstrip.
Cascate del Mulino, Saturnia, Tuscany, Italy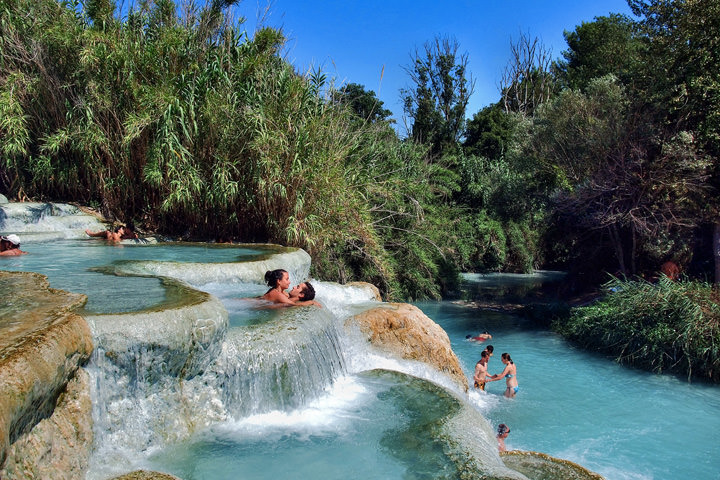 Steaming hot spring water comes out of the ground at 37.5 C and cascades over a series of small waterfalls into dozens of pools on consecutive levels.Niagara Falls it ain't, but the cascading thermal springs at Saturnia are a lot of fun. Soak in the natural sulfurous mineral water and just maybe cure ailments from rheumatism to muscle ache. About 10 kilometers north of the small Tuscan town of Manciano, northeast of Orbetello.

Skaftafell National Park, Iceland
Formed over millions of years by volcanic eruptions, rivers and glaciers, the Skaftafell National Park in southern Iceland has a variety of striking landscapes. These include an overhanging wall of geometric black basalt rocks on the Svartifoss waterfall, which inspired the architecture of Reykjavik's National Theatre, and the majestic Skaftafellsjökull glacier that seems to have frozen in mid-flow. Drive Road 1 for 326 kilometers east of Reykjavik. Buses from Reykjavik run to the park in summer.
Lake Titicaca, Bolivia/Peru
At an altitude of 3,811 meters above sea level, Lake Titicaca is one of the largest lakes in South America by volume. It is also the highest commercially navigated lake in the world and is home to indigenous people including the Aymara and the Quechua.
Lake Tititica is, by volume, the largest lake in South America. Sitting at 3,811 meters (around 12,000 ft) above sea level it is also the highest navigable lake in the world. Its vast expanse of water is often cloaked in light mist and has inspired numerous local legends.Lake Titicaca can be visited from the Peruvian town of Puno or from Copacabana on the Bolivian side, 150 kilometers from La Paz.
Plitvice Lakes, Croatia
This series of shallow lakes in the heart of Croatia are a nature lover's paradise, with clear waters pooled in between rocky canyons and dramatic waterfalls gushing over cliff edges. Wooden walkways make access easy for visitors. Swimming is forbidden inside the national park, but there are places for a dip outside, such as Korana Village. Look out for freshwater fish and brown bears in the surrounding hills. Fee: K110 (US$20) for adults in summer season.The park is a two-hour drive north of Zadar. There are also good bus services.
Great Barrier Reef Marine Park, Australia

Made up of nearly 3,000 individual reefs, the Great Barrier Reef off the coast of Queensland extends for 2,600 kilometers and is the world's largest structure made of living organisms. It's even visible from space.A favorite on UNESCO's World Heritage list, this delicate ecosystem is home to porpoises, green sea turtles, whales and dugongs. But the reef is threatened by climate change and coral bleaching that occurs when water temperatures rise. Fee: An environmental management fee (EMC) of AU$5.50 (US$5.30) is charged per person per day. Base your visit from any of the towns on the east coast of Queensland between Gladstone and Thursday Island.
Tsingy de Bemaraha Strict Nature Reserve, Madagascar
Spiky limestone rock formations and mangrove forests are part of the tropical and otherworldly landscape of the Tsingy de Bemaraha nature reserve on the western side of Madagascar. The reserve is home to chameleons, lemurs and endangered birds. Also part of the landscape is the Manambolo River, which runs red with eroded sediment from the highlands of Madagascar.The reserve is 400 kilometers west of Antananarivo.
Halong Bay, Vietnam
Thousands of small islands and standing stacks, or karsts, overgrown with green shrubbery, protrude from this peaceful bay. The popular way to explore is in a traditional Chinese trading ship -- the brown-paneled sails of the junks have become as much a part of the landscape as the towering rocks.Most visitors to Halong Bay come via Hanoi -- 170 kilometers away, or five to six hours on a public bus. Private cars can be hired. Even rented helicopters make the journey.
Punkaharju Esker Nature Reserve, Finland
This seven-kilometer esker, or sand ridge, was formed during the Ice Age and has been an important trade route in eastern Finland for millennia. Calm lakes lie on either side and tall pines provide shade for moss, toadstools and blueberries -- easy to see how fairy tales are born. You expect a frog with a crown to hop off the nearest giant mushroom, or a mystical hand to reach out of the lake.Take a train from Helsinki to Punkaharju or drive the 350 kilometers northeast of Helsinki.
Na Pali Coast, Kauai, Hawaii, United States
Whether sandy beaches, giant waves or volcanic craters, Hawaii has plenty of breathtaking landscapes. But the drama and scale of the Na Pali coast of Kauai, along the 17-kilometer Kalalau trail, may top them all. The lush green mountains ripple with scree slopes and ridges for more than 1,300 meters before dipping into the Pacific. Fee: No entrance fee to the Na Pali coastal trail, but US$20 for camping for non-residents.Accessible only by 17-kilometer hike from Ke`e Beach to Kalalau Valley, or by boat.

Lake Baikal, Russia
Lake Baikal in southern Siberia is not only the deepest and oldest lake in the world (more than 1,600 meters deep and more than 25 million years old), it holds almost 20 percent of the world's freshwater supply. The UNESCO World Heritage Site is a unique ecosystem that supports more than 2,600 species of plant and animals. There have even been reports of a "Baikal Monster," likely to be a giant sturgeon.The nearest city is Irkutsk, about 120 kilometers north of the Mongolian border.
Vembanad Lake , Kerala, India
Vembanad Kol) is the longest lake in India, and the largest lake in the state of Kerala. It is also one of the largest lakes in India. A lake spanning several districts in the state of Kerala, it is known by different names in different localities viz. Punnamada Lake in Kuttanad, Kochi Lake in Kochi. The Port of Kochi is located around two islands (the Willingdon Island and Vallarpadam) in a portion of this lake known as the Kochi Lake. The celebrated Nehru Trophy Boat Race is conducted in a portion of this lake, in the Kuttanad region, known as the Punnamada Lake. High levels of pollution have been noticed at certain hotspots of Vembanad backwaters. Government of India has identified the Vembanad wetland under National Wetlands Conservation Programme